qkash details
qKash
qKash is a payment solution offered by active gear in conjunction with our payment partners. Using qKash is simple and convenient. For our Active Users who do not have a credit card or prefer to pay cash, qKash is your safest and simplest way to pay for your Active Gear.
How do you use make payments using qKash?
First you would need a qKash account number. Every registered customer on any active gear site will be automatically assigned a qKash account number. This can be found on all your email communications from us or on the top right hand corner of your screen when you are logged in.

Once you have your qKash account number, you are ready to make your payment at any of our participating third party payment provider
Who are the participating payment providers?
Paymaster Jamaica is currently the only payment partner available to accept Active Gear payment at any of their 140 locations in Jamaica or online through https://www.paymaster-online.net/Default.aspx
We are actively engaging several other payment partners in Jamaica and the rest of the Caribbean and as soon as those locations are online we will update you.
What countries can I use my qKash account in?
Currently you may only make a payment in Jamaica, however we are actively working with other payment providers in different countries and as soon as those are available we will update you.
What payment options do you have available with qKash?
We have three payment methods accepted at any paymaster location
Credit card
Debit Card
Cash Payments
How quickly will my qKash account be updated?
Your qKash account will be updates within 20 minutes after you have made the payment at a paymaster location
How do I use my qKash to make purchase?
During the payment process, step 4 is Payment Information; please select qKash as the option.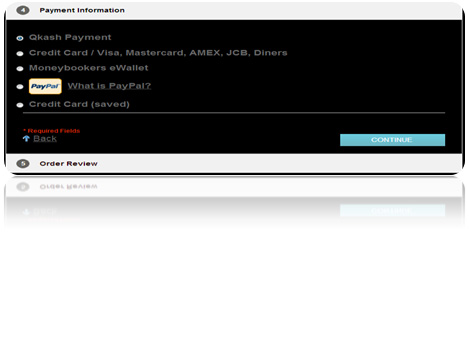 How do I check my qKash balance?
Once you are logged on, please select my account and from there select, qKash transactions. In this option, you will only be able to view the transactions